Straight Line Slotting Edge Sanding Machine MMX-K2W2-DK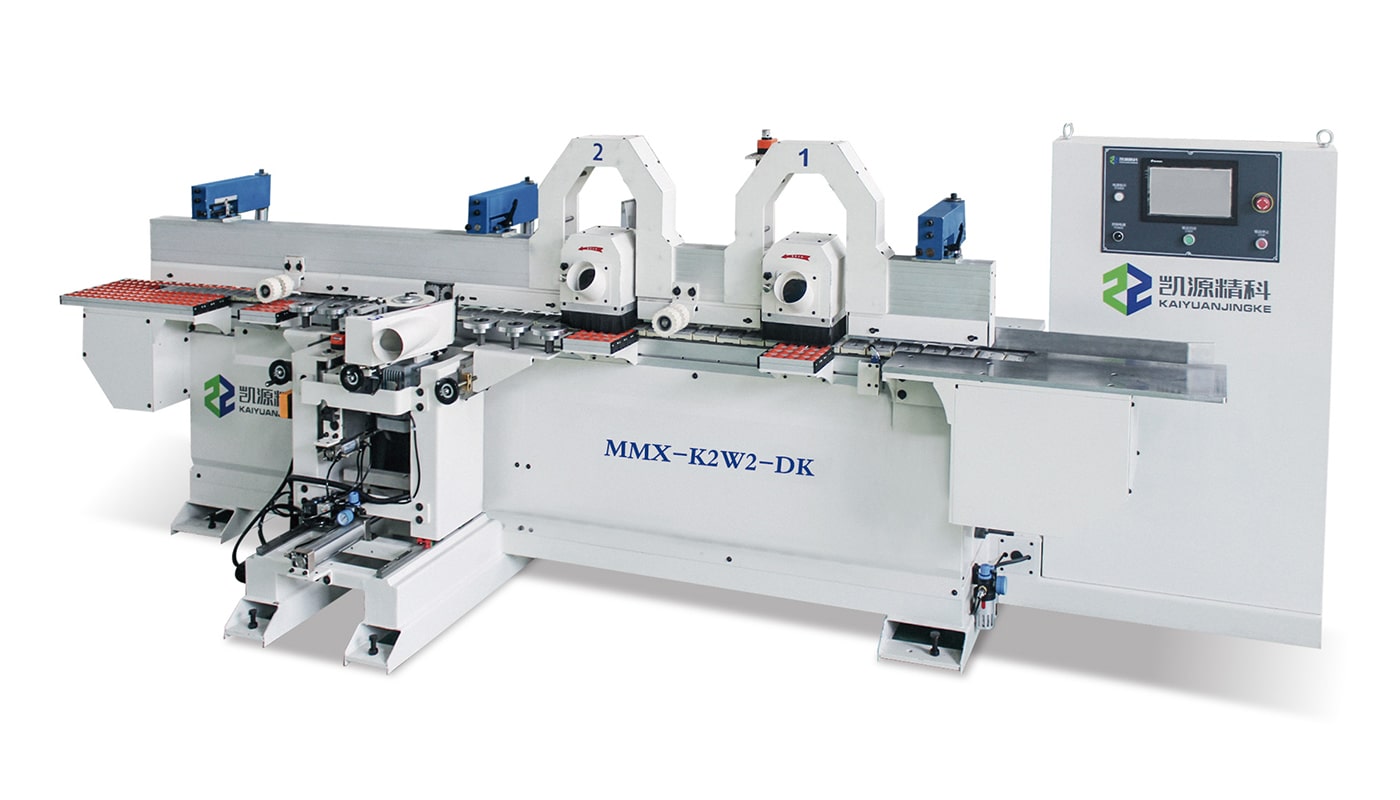 * This equipment is a professional slotting milling type for door cover.
* According to the characteristics of the diversity of the size of the door, the width of the door milling and sanding can automatically set the width of the operation.
* Pressing device adopts profile wheel pressing mode to transport smoothly, without damaging the surface of the workpiece.
* Simple operation, automatic width setting, compared with the traditional process with fewer procedures, high production efficiency, labor saving and reduce production cost.
Slotting Edge Sanding Machine Overview

Slotting edge sanding machine is used to slot milling type for door cover. When you are using this machine, it is important that you should be aware with the techniques that will help you to get the best result. Before you start using this machine, you need to make sure that you have all the things that you need. These things are enough to make your machine more productive.

One of the most important things that you need is an edge sanding machine that is precise and fast. You need to compare the speed of each machine so that you will be able to determine whether you are going to buy a certain machine or not. Also, you need to check the parts of the machine that will give you the high performance. For this you need to look for the moving parts such as the belt, gears, blades, and more. In addition, there are some parts that will require you a lot of your time so you should be very careful when you are cleaning those parts.

Also, before you are going to use slotting edge sanding machine you need to make sure that you have to read the manual carefully. This kind of documentation will tell you how you can use the machine in a better way. Also, you can read the troubleshooting guide if you think that your machine cannot do the job properly. You should also clean the machine before you are going to start using it. In this way you can ensure the good performance of your machine.

When you are going to clean the slotting edge sanding machine you need to do it with the water from the tap. You should avoid using the soap and other liquids because they will damage the slotting edges. When you are cleaning the machine you need to wipe the entire sides and the bottoms with a cloth in order to get rid of any dust or dirt. If there are some sticks on the screen then you should remove them by using a paper towel. It is recommended to leave the machine for some hours in an open area to let the dust to settle.

Also, before you are using the slotting edge sanding machine you need to read the instruction carefully. There are some things that you should be careful with. First, you should avoid moving the lever while it is being used. Second, you should stay away from the metal edges of the slotting edges. Third, you should not walk too close to the machine while it is working.

If you are having some problems with the slotting edge sanding machine then you should consult our website for help. Usually our company's professionals will give you some advice and you can follow it. When you want to repair your machine, read all the instructions carefully. Usually, these machines have automatic maintenance facilities so you do not need to do anything.
Features of K2W2 Slotting Edge Sanding Machine

If you have decided to purchase a slotting edge sanding machine, you have to make sure that it is highly accurate and fast. There are various types of this machine, so you need to compare their speed and features before making the final decision. In addition to the speed, you must check the parts that are moving, such as the belt and gears. Some of these parts need to be cleaned after every use, so you should make sure that you take time to clean them properly.

The basic model, the MMX-K2W2-DK, features an oscillating sanding belt with an independent drive motor. This machine also comes with a rotary unit that can be adjusted from a 90 to a 45 angle for smoothing bevelled edges. You can also use this machine to finish curved workpieces. Depending on the size of the workpiece, you can use different sizes of sanding belts.

It features a heavy-cast iron working table for solid wood sanding, and a similar table for veneer sanding. It has multiple working stations and can be used simultaneously. Its height can be adjusted by motorized adjustment, and it features an oscillation feature that does not involve tilting the drive rollers. Instead, it moves the entire sanding unit assembly, thereby ensuring that the sanding belt is kept at an optimal angle.

This kind od slotting edge sanding machine can achieve precise sanding on both flat and curved workpieces. It is possible to use multiple units at the same time and can also be adjusted to fit uneven surfaces. It is ideal for wood doors and veneers, and its high-speed sanding capability makes it ideal for finishing work. However, it can also be used for veneered or solid pieces.

KaiYuan sloting edge machine is the ideal machine for all your edge sanding needs. Its smooth lower conveyor belt and infinitely variable speed make it easy to sand edges of any type. It is the perfect all-rounder, and will handle a wide variety of materials.
| | | |
| --- | --- | --- |
| Machine model | MMZ-K3J1W6C3 | MMX-K2W2-DK |
| L1 width of feeding piece | 100-1800mm | 110-300mm |
| L2 Max. Depeth of feeding piece | 80mm | 80mm |
| Mini.length of work piece | 300mm | 500mm |
| Working height | 850mm | 850mm |
| Feeding speed | 4.5~22m/min | 0~22m/min |
| Working power supply | 50Hz 380V | 50Hz 380V |
| Total power | 35.56 kw | 16.6 kw |
| Dimension | 7835X1500X1500mm | 4425X1500X1500mm |
| Weight | 3200 kg | 1650 kg |
CONTACT US


Foshan Kaiyuan Jingke Machinery Co., Ltd.
We are always providing our customers with reliable products and considerate services.
If you would like to keep touch with us directly, please go to contact us