Linear Sanding Machine-Model MMQ-W12
By:Kaiyuan
Date:2022/01/12
1. Machine features : (suitable for wood mold and painting sanding and polishing of various molding lines)
Wood lines sanding machine is a new type of practical and efficient surface processing of wood line. It is suitable for sanding and polishing of various materials and shapes of door cover line, skirting line, l-buckle line, special-shaped line, wood mold, primer, putty, skin, plane and special-shaped surface of aluminum plate.
Working principle of Linear sander machine: the surface of workpiece is polished by plane or imitation grinding with consumables synthesized from various grinding materials such as TBM material, polyimide grinding wheel, non-woven cloth wheel, grinding wheel, abrasive belt, nylon wheel, octagonal sand and sanding cloth wheel.
Modular design, multi head independent control, adjustable sanding head, sanding frame, flexible configuration, easy to freely combine into a continuous processing line. Sanding head, sanding frame can be up and down 90 ° rotation, suitable for sanding of various complex straight lines. Pneumatic pressure device is used to reduce the adjustment time, independent conveying mechanism can greatly stabilize the conveying, and the feeding capacity is strong.
Air cylinder and spring wheel load are used for pressing, the stability of pressing plate is better, the heavy-duty fuselage is welded, and the swallow tail slider structure is used for lifting and advancing of sanding head and sanding frame to ensure the accuracy of the equipment.
Taiwan TUNGLEE dual frequency motor, Taiwan Shilin electric control system, equipped with PLC automatic compensation system, can reduce the manual wear compensation of consumables grinding wheel, simple operation, convenient maintenance, 40 meters per minute feeding speed, greatly improve the efficiency of line sanding.
2. Wood lines sanding machiner

Configuration of Linear sander machine :

Description and requirements of process layout :
1) The first, second and third sanding heads adopt a 4-inch 100 mm long shaft motor with a rotating speed of 1430 R / min to arrange the upper surface of the sanding workpiece;
2) The fourth and fifth sanding heads reserve left and right sides for sanding, adopt 4 inch 100mm motor shaft, and the speed can reach 2800 r/min;
3) The sixth, seventh, eighth and ninth sanding heads Reserve left and right sides for sanding, adopt 4-inch 100mm motor shaft, and the speed can reach 2800 r/min;
4) The tenth and eleventh sanding heads are facing each other, and the motor shaft of 4 inch and 100 mm is adopted, and the speed can reach 2800 R / min;
5) The twelfth sanding head is reserved on the bottom of sanding, with a 4-inch motor shaft of 100 mm, and the speed can reach 2800 r/min;
6) All sanding heads are equipped with automatic advance and retreat, automatic compensation function, PLC control of the whole machine, automatic supplement function and one key start function.
7) All sanding head independent frequency control, all motor power is 1.5kw.
3. Linear sanding machine parameters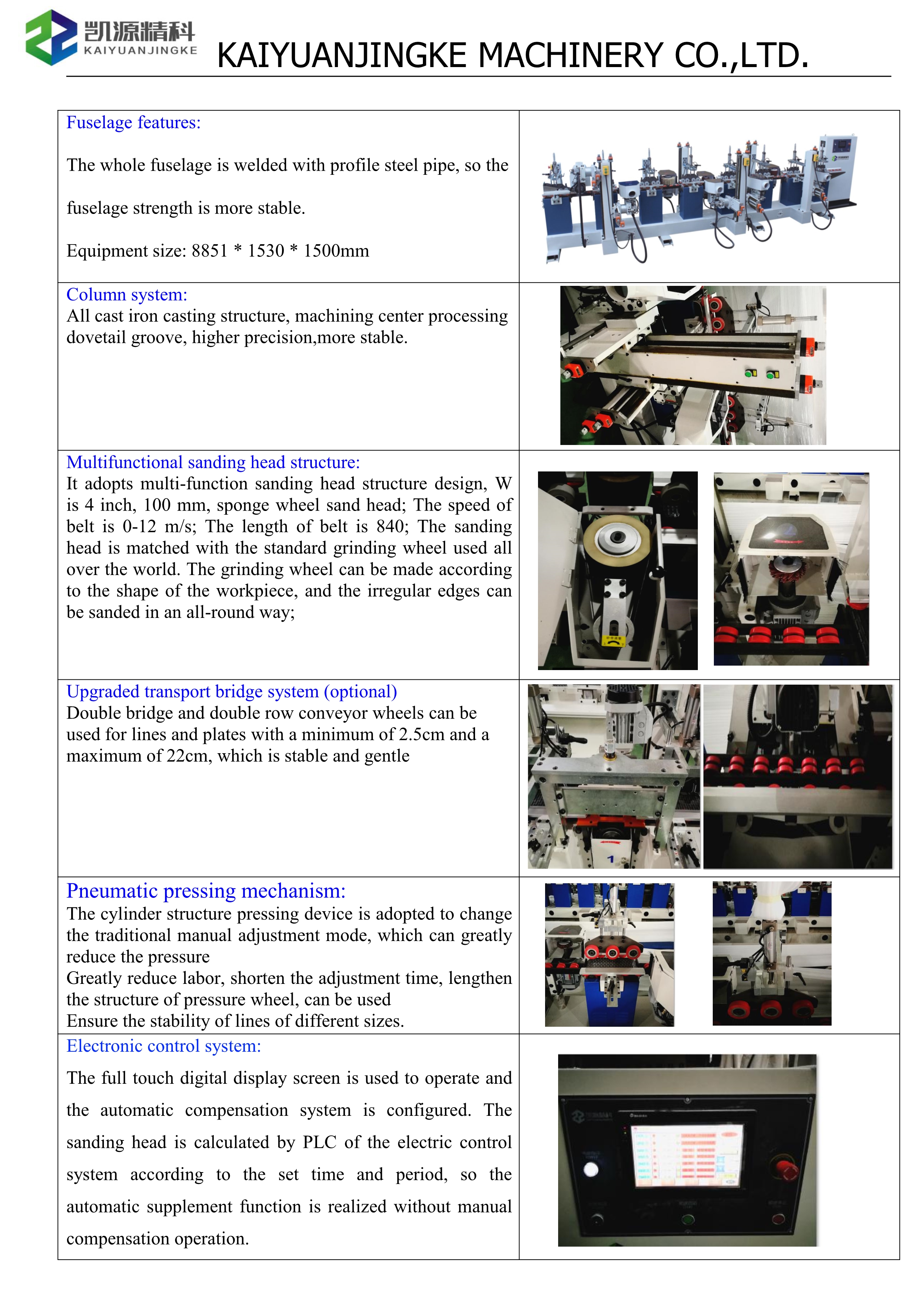 4. Wood lines sanding machine parameters and supplementary instructions :
Thickened frame

Machine frame

Workpiece processing width: 20-150mm

Maximum disposable sanding range: 5-100 mm

Maximum thickness of workpiece feeding: 80mm

Minimum length of workpiece feeding: 600mm

Feeding speed: 5 ~ 35m / min (frequency control)

Conveying motor: 380V, 50Hz, 4.07kw, 1400R / min

Sand head parts

Automatic advance and retreat

Automatic compensation function

Belt size perimeter × Width 840 × 100 mm (consumables)

Sand head main motor 380V, 50Hz, 1.5KW, 1430r / min (variable frequency speed regulation)

Specification and outer diameter of sponge wheel × internal diameter × 180 high × twenty-five point four × 102mm (consumables)

Suction port Φ 100mm

Machine parameters

Working power supply 380V 50Hz

Working pressure 0.6~0.8 Mpa

Long overall dimension * wide * Height 8851 * 1300 * 1500mm

Total power 22.07kw

Net weight 4500kg
5. Linear sanding machine is suitable for processing products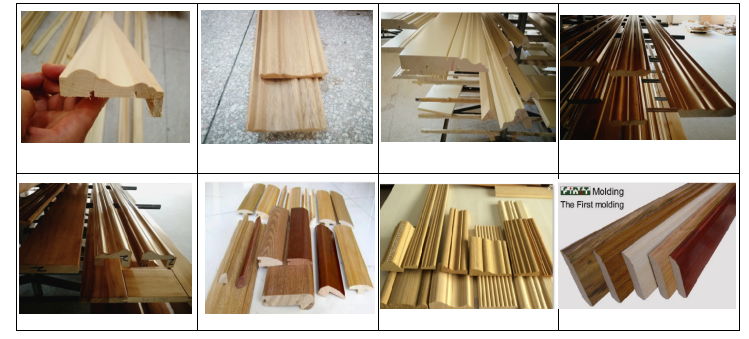 6. Functions and advantages of the Linear sander machine :
① Column casting structure, solid, stable, beautiful products atmosphere;
② Taiwan TUNGLEE motor, Taiwan Shilin inverter and low voltage electrical system;
③ Widen 145mm conveyor belt;
④ Pneumatic pressure material structure, can quickly change the line, save the adjustment time, pneumatic pressure material can reduce the pressure material wheel set product table to a certain extent.
Surface damage;
⑤ The conveying speed and sand head speed of the whole machine are all variable frequency adjustable speed motors, and the TUNGLEE motors are all double frequency variable frequency motors, which can compare and transmit.
Y series motors save 30% energy consumption;
⑥ Pu double row rubber wheel across the bridge, more stable to ensure the smooth feeding of the workpiece, to avoid the line local stuck paint penetration phenomenon.
⑨ The sanding speed of the equipment can reach 0 ~ 40 m / min, which does not affect the sanding effect.
⑩ Multi function sand head configuration can be installed with different abrasives: brush roller, octagonal sand, copying wheel, abrasive belt;
CONTACT US


Foshan Kaiyuan Jingke Machinery Co., Ltd.
We are always providing our customers with reliable products and considerate services.
If you would like to keep touch with us directly, please go to contact us